May 31, 2019
Stanford's Revitalized Frost Amphitheater is a Bay Area Bonus
Stanford's Revitalized Frost Amphitheater is a Bay Area Bonus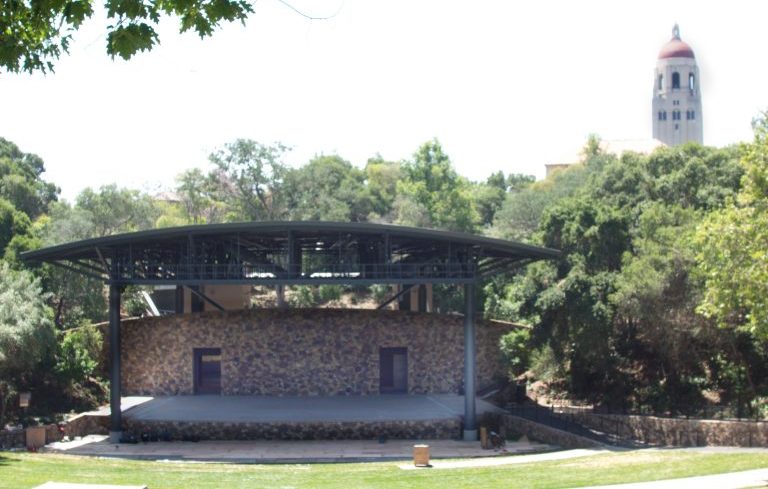 May 29, 2019, Palo Alto—Stanford Live, the performing arts organization of Stanford University, unveiled the newly refurbished and updated Frost Amphitheater to local media today. Built in 1937 and home to historic performers, such as San Francisco Symphony, the Grateful Dead, and Janis Joplin, the venerable outdoor venue has been revitalized to the benefit of both performers and audiences.
Chris Lorway, Executive Director of Stanford Lively, explained that the facilities have made the Amphitheater more like Stanford's Bing Concert Hall, which opened in 2013. While previous backstage facilities were limited to tents pitched on a concrete slab, the new and improved venue boasts such audience conveniences as ADA-compliant seating, additional restrooms (2:1 ratio female to male), and water bottle refilling stations, and performer comforts such as a state-of-the-art green room and dressing rooms. Access is also improved with the addition of an elevator and entrance tunnels for audiences and the performers' equipment.
Although this season's lineup of performances at Frost includes musicians, such as San Francisco Symphony, Lionel Richie, and Joe Russo's Almost Dead, dance is conspicuously absent. Lorway explained that dance companies have performed at Frost in the past, but the logistics of the new facilities need to be worked out before the needs of dance groups can be accommodated. The concrete stage does not lend itself to dancers; dance companies will have to bring their own Marley floor or sprung floor.
Outdoor dance floors can also be affected by weather, such as dew or humidity, making a stage too slippery for dancers' safety. Although the Frost stage is covered, how it could cope with humidity is not yet clear. However, the future of the revitalized venue bodes well for performing artists in the Bay Area.
Frost Amphitheater's 2019 season opened on May 18 with Jorja Smith and Kali Uchis, and will close with The National with Alvvays in September. For more information, see the Stanford Live website.