Selected Interviews
"Mad Genius" Robert Dekkers Talks About his Latest Creation
Michael Phelan
Described by one critic as a "mad genius", choreographer Robert Dekkers is a busy man indeed. Artistic Director and choreographer of Post:Ballet, resident choreographer of Diablo Ballet, faculty member of Berkeley Ballet Theater and ODC/Commons, collaborator with performance artists of multiple genres, and dancer. Does this man ever stop? Probably not.
Robert took time out from his frantically busy schedule to speak with BayDance.com about his upcoming Five High, the company's fifth season program, featuring the premiere of ourevolution along with two works from the Post:Ballet repertoire, Mine is Yours and field the present shifts. According to the Post:Ballet description, ourevolution "explores our society's steady drift toward isolation as well as our potential to connect deeper with one another, our environment, and ourselves."
Robert's answers were long and rapid, revealing a man fueled by lots of energy.
BayDance.com: Tell me about "Five High".
Robert Dekkers: "I'm very excited about ourevolution. It's the most human piece I've ever made. There are five dancers in Five High, with three pieces, and all three pieces are very different, with three very clear looks and feels. It's very versatile for the dancers to work on their artistic range."
BD: You often work with artists from other genres, such as composers and visual artists. For ourevolution you worked with visual artist Enrique Quintero. How did that come about?
RD: I got started with Enrique because he is the husband of a dancer I used to dance with at ODC. I like to show other artists' work in a different environment. I like to work with other artists to explore an idea and help me bring ideas to life in a more thoughtful and complete way.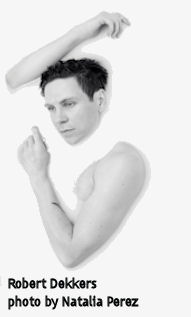 BD: ourevolution is set to a score by the German composer Nils Frahm.
RD: It's not an original work by Nils. He lives in Berlin, and the time and money for collaboration on an original work was too limited. Time also prevented setting the animation to an original score. I'm talking with Nils about an original collaboration in 2016. He's an incredible musician and composer, with palpable energy in his pieces. And this one has some background sounds that have been important in the choreography.
BD: What is the evolution in ourevolution?
RD: ourevolution is about communication, connecting with people, how are we evolving with communicating. Historically, communication started with body gestures and on to more more and more complexity with languages. The evolution is the cyclical nature of communication. How can communication evolve without fighting, hurting other people, how to get successful conversation?
San Francisco Ballet Announces One Promotion, One New Dancer
Norika Matsuyama of Japan and Maggie Weirich of Portland, Oregon have joined the San Francisco Ballet Company. Ms. Matsuyama, who trained with San Francisco Ballet School, has been promoted to the corps de ballet. Ms. Weirich trained with San Francisco Ballet School, and has joined the Company as an apprentice.
---
BD: Was there a particular "aha" moment when you said to yourself, "I gotta do this!"?
RD: There's a particular aha moment. Originally I was interested in exploring technology in communication. Everyone is connecting now, with Facebook, and so on. I didn't care about specific technology, but about using technology more effectively in communication with one another. In ourevolution, one dancer has an aha moment herself, how she can use it to expand on how to communicate with one another. When we communicate, we put our stamp on something. We have a sense that belief can change. In the piece, dancers still have their own personalities and ideas, but are listening to one another and trying to find how can we have a conversation that is not inconsiderate to other people. There's a time and place to stand up for what you believe, absolutely. But there is also a time and place to listen...That's kind of what the piece is about."
BD: How long did it take you to choreograph ourevolution? What was the creative process like?
RD: I was working on it since late January with dancers two days a week, developed material, and worked with the visual artist. I had to take May off when the dancers were in Atlanta. In mid June I picked up again and found the dance was not what I wanted to say at all. I had to be unafraid to throw stuff away after we had worked on it. The dancers wanted to kill me! But after the five week period away from it and coming back, in four days we finished it. I wouldn't have been able to create it without that long process of developing the idea. It allowed me to kind of go to a deeper place and allowed the dancers to become a part of the work. It was very personal. It's the kind of work I hope to be doing more of. The humanity of the piece is what I'm really interested in exploring. I'm really proud of it. I'm still not sure how it will eventually look in a theater. My works become finalized usually by the third performance.
BD: Why should everyone drop what they're doing and run right out to see Five High?
RD: What's so interesting is we work in venues besides theaters, places where people might not be used to seeing dance. What's great about Post:Ballet is the conversatin between technology and art. It's so San Francisco in a way, the conversation that is happening between technology and art. Post:Ballet is expressing that. People are really interested in the technology world... Our work is visually appealling but also has a purpose behind it. A lot of work I see has high intentions, but is not well executed. I'm very proud of the fact that all the dancers I have are all world class dancers, top of the line. They're not just doing pretty shapes and cool dance steps. I think that's what we're looking for. Everything in our world is cool and flashy now. It's meaningful to people to see something that not is only visually appealing, but has heart to it. I think that's really important.
Post:Ballet performs Five High on August 7, 8, and 9 at 8:00 pm at Yerba Buena Center for the Arts in San Francisco.