San Francisco Ballet Releases 2017-2018 Season Lineup
Ten-Program Season Wraps Up With Festival of New Works
April 12, 2018—San Francisco Ballet today announced the program and schedule for their upcoming 2017-2018 season. The 2017 schedule continues when the Company returns to Festival Napa Valley for one performance on Friday, July 21, 2017, accompanied by members of the SF Ballet Orchestra. Also this year, in October the Company will again participate in World Ballet Day LIVE, a day-long online streaming event, for which details will be announced at a later date. Finally for 2017, the Company's beloved Nutcracker will run for 30 performances, from December 13 to 30, 2017.
On Thursday, January 18, 2018, the new repertory season begins with the Opening Night Gala. The 2018 Repertory Season will consist of ten programs, from January 23 to May 6. The season will wrap up April 20-May 6 with a previously announced festival entitled "Unbound: A Festival of New Works". Conceived and planned by Helgi Tomasson, Unbound will showcase 12 new works, by 12 renowned choreographers: David Dawson, Alonzo King, Edwaard Liang, Annabelle Ochoa Lopez, Cathy Marston, Trey McIntyre, Justin Peck, Arthur Pita, Dwight Rhoden, Myles Thatcher, Stanton Welch, and Christopher Wheeldon. Presented in four programs of three ballets each, for a total of 17 performances, the festival will take the place of Programs 7 and 8 in the 2018 season. The festival will include the Company's new initiatives designed to showcase the organization's commitment to promoting the art of ballet.
Highlights of the upcoming season include the return of Tomasson's The Sleeping Beauty in January. Program 2, entitled Bright Fast Cool Blue, opens on February 13 and includes George Balanchine's Serenade, Benjamin Millepied's The Chairman Dances, and the San Francisco Ballet premiere of Justin Peck's Rodeo: Four Dance Episodes. Set to the music of Aaron Copland, Peck's work is described as "very different" from Agnes de Mille's 1942 version of the same title and music.
Program 3 in February is titled Distinctly SF Ballet and features Tomasson's On a Theme of Paganini, Val Caniparoli's Ibsen's House, and a work to be determined.
Liam Scarlett's full-length production of Frankenstein returns in March. Also in March is a tribute to composer and conductor Leonard Bernstein and choreographer Jerome Robbins. The program, entitled Robbins: Ballet & Broadway, celebrates the 100th anniversary of the birth of both Bernstein and Robbins.
In April, guest company The National Ballet of Canada will perform John Neumeier's full-length Nijinsky, set to the music of Chopin, Robert Schumann, Nikolai Rimsky-Korsakov, and Dmitri Shostakovich. Neumeier's work tells Nijinsky's life story, from his childhood at the Mariinsky Ballet, his career at Ballet Russes, to his mental breakdown during World War I.
San Francisco Ballet will continue to present the "Meet the Artist" series on Friday evening and Sunday Matinee performances. The 30-minute interviews with Company artists, management, and guests begin one hour before performances and are open to all ticket holders free of charge. The "Pointes of View" lectures will continue on Wednesdays free and open to the public.
For more information about the season repertory and other programs, visit sfballet.org.
Dancing in the Park Schedule Announced by MFDP
Mark Foehringer Dance Project has announced the line up of performances for this year's Dancing in the Park event to open National Dance Week in the Bay Area. The tentative schedule is as follows:
12:00pm - Mark Foehringer Introduction to Dancing in the Park SF
12:03pm - SJSU University Dance Theater
12:31pm - Conservatory for Contemporary Dance Arts
12:39pm - LINES Ballet BFA at Dominican University
12:47pm - The New Ballet School
12:51pm - LINES Ballet Training Program
1:03pm - San Francisco Ballet School
1:07pm - David Le
1:14pm - Carly Lave
1:30pm - sjDanceCO
1:34pm - Stanford University
1:42pm - Natasha Carlitz Dance Ensemble
1:48pm - sjDANCEco
1:53pm - FACT/SF
2:02pm - Katharine Hawthorne
2:10 pm - Post:Ballet
2:17pm - Kinetech Arts
2:27 pm - Printz Dance Project
2:33 pm- burnsWORK
2:40pm - Dance Theatre of San Francisco
2:45 pm - Ktdavisdance
2:55pm - Tanya Bello's Project. B.
3:05pm - The Anata Project
3:15pm- Rogelio Lopez and Dancers
3:23pm - AXIS Dance Company
3:33pm - MFDP Ensemble
3:40pm- Carnaval King 2016 Carlos Venturo & Natalie Elaine Terry
3:48pm- Folklorico Nacional Mexicano
3:57pm- Nemenzo Polynesian Dance Group
4:07pm- Sambaxé Drum and Dance Company
Paul Taylor Dance Comes to Livermore's Bankhead Theater
Performance, Master Classes, and Reception
Paul Taylor Dance arrives in Livermore for a three-day residency at the Bankhead Theater beginning on May 1st. The three-day residency opens with a wine reception on May 1st and a master class on May 2nd. The residency concludes with a performance on May 3rd of two of Paul Taylor's classic works, Company B and Lost, Found and Lost.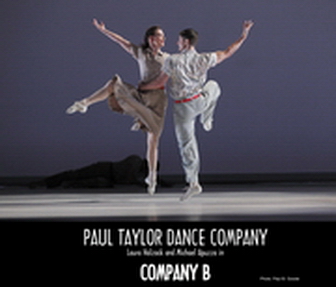 Ticket holders will be able to meet the dancers and learn more about the show at an exclusive wine tasting reception on Monday evening. Paul Taylor dancers will hold master classes on Tuesday to local dance students from Las Positas College and Valley Dance Theatre. The master class is part of LVPAC's Educational Outreach Program.
Company B is a World War II themed work set to songs sung by 1940's favorites The Andrew Sisters. The work evokes the American spirit and the tragedy of wartime. Lost, Found and Lost looks into how the natural postures of ordinary life translate into fluid choreography.
For tickets and more information see Livermore Valley Performing Arts Center or call 925-383- 6800.