Selected Interviews
Robert Moses is Up-to-Date with SILT
Choreographer Robert Moses is known for his innovative dances, combining dance genres, styles, and athletic technique. His world premiere of SILT, for Robert Moses' Kin's 20th Annual San Francisco Season, is all that and a whole lot more. Performed from May 14-17 at Yerba Buena Center for the Arts Forum, SILT is an interactive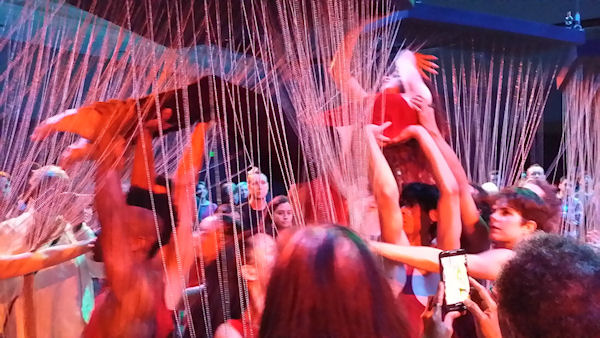 work danced around, through, and among the audience to electronic percussive music by Moses and Michael Manring.
"SILT is a dance of relationships," says Moses. "The silt of our shared racial, social and economic histories, which exist alongside emotional sediment - when seeded, this silt creates new life and exposes our known and unknown influence in others lives."
This silt and sediment are represented in the choreography symbolically, not only by dancers swirling among the crowd, but the spectator-participants mingling among each other.
Dancers perform as an entire group, as small groups spinning off from the larger group, or as individuals. They swirl single-file through the crowd, often past or behind spectators watching another group of dancers.
Without scenery, the centerpiece of the performance is a series of hanging, slender chains. When entering the dance space, the audience was guided through the chains. Throughout the performance dancers sporadically moved through and around the chains, sometimes holding bunches of them while gyrating. Maybe the chains symbolize filtering or straining emotional sediment.
At one point, the dancers filed up a staircase to the ceiling grid that holds the theater lighting, lying on the grid and moving to the music. At other times, individual dancers passed among the audience some handheld speakers broadcasting the music, or used smart phones to photograph other dancers, imitating members of the audience in an act of sharing or togetherness.
As a work of choreography, SILT may not be for traditionalists. It's a bold, progressive work that reproduces the virtual social interaction among strangers so familiar to the Millennial generation. That it was created by one of the Boomer generation attests to Moses' creativity, originality, and social relevance.
Photos by Michael Phelan.
---
2015-2016 Season Performances
April 25. This week, major Bay Area presenters Cal Performances, San Francisco Performances, and San Francisco Ballet all announced their upcoming season's lineup. The stunning and diverse array of dance shows how fortunate we are to be here.
San Francisco Performances
The three dance works from San Francisco Performances are all more than worth seeing.
Butoh artists Sankai Juku return to San Francisco in October in their performance of Umusuna-Memories Before History, a vision of the creation of the Earth.
In November, the London-based Akram Khan Company collaborates with celebrated sculptor Anish Kapoor and composer Nitin Sawhney to present the enigmatic, contemporary work Kaash in a 2014 revival of the 2002 full-length work.
Company Wayne McGregor, formerly the Wayne McGregor | Random Dance company, performs their 2013 work Atomos, in January. McGregor describes this work as "atomizing bodies, movement, film, sound and light into miniature shards of intense sensation." Atomas begins Wayne McGregor's multi-year residency with San Francisco Performances.
San Francisco Ballet
San Francisco Ballet starts off the upcoming season with its glorious Nutcracker, from December 16-31 and follows through with works by familar, treasured choreographers as well as stirring new works, including two world premieres.
While Balanchine and Robbins are among the esteemed and familiar in the season's repertoire, Artistic Director & Principal Choreographer Helgi Tomasson said that this season includes, "works by some of the most exciting contemporary choreographers working today, including Mark Morris, Alexei Ratmansky, and Christopher Wheeldon... a world premiere by New York City Ballet Resident Choreographer Justin Peck, who will create his first work for the Company, and a world premiere by Liam Scarlett." Tomasson went on to say, "I'm thrilled that San Francisco audiences will see the North American premiere of William Forsythe's Pas/Parts; San Francisco Ballet is honored to be the first American company to perform the work."
Some audience favorites of SFB's season include Swan Lake, Coppélia, Magrittomania, Onegin, Dances at a Gathering, and Possokhov's Swimmer, which premiered this month.
Cal Performances
Next season's dance works at UC Berkeley's Cal Performances combine the high class traditional and ultra-modern.
Russia's esteemed Mariinsky Ballet and Orchestra perform Alexei Ratmansky's Cinderella in October.
From Taiwan, Cloud Gate Dance Theatre, directed by choreographer Lin Hwai-Min, performs Rice, on the cyclical nature of human–land interactions, in January.
Closer to home, American Twyla Tharp celebrates with her 50th anniversary tour in October, performing new works set to music by John Zorn, Henry Butler, and J. S. Bach.
Hyper-creative choreographer Trajal Harrell combines dance, song, and dramatic text in his new dance-theater work, The Ghost of Montpellier Meets the Samurai, in its West Coast debut in March.
Also in March, the Mark Morris Dance Group returns to Berkeley with the Philharmonia Baroque Orchestra and Chorale to perform L'Allegro, il Penseroso ed il Moderato, set to the Handel oratorio of the same name.
Last, but not least, in April, Alvin Ailey American Dance Theater makes its annual call on UC Berkeley with seven performances of classic Ailey repertoire and recent works by star choreographers, programmed by Artistic Director Robert Battle.